CoinOut levels are a new feature designed for you to earn more Coins and rewards
The more you use the app, the faster you level up 
The higher your level, the more rewards you can unlock
If you're a current CoinOut user that just updated the app, you'll automatically be placed in the appropriate level based on your account activity from the previous month (connected accounts, profile surveys completed, receipt submissions, etc)
Your level status is based on the previous month's activity
For example, if you complete the steps to level up to the Silver Level on April 12th, your account will be updated to the Silver level on May 1st and you'll remain at that level until the end of the month.
Your level is re-evaluated on the 1st of each month, so keep scanning receipts and make sure your email and retail accounts are connected!
What do you have to do to level up?
There are 5 levels: Each one has required tasks to reach that level
Tap on the Home Tab and Tap "My progress" to see how close you are to leveling up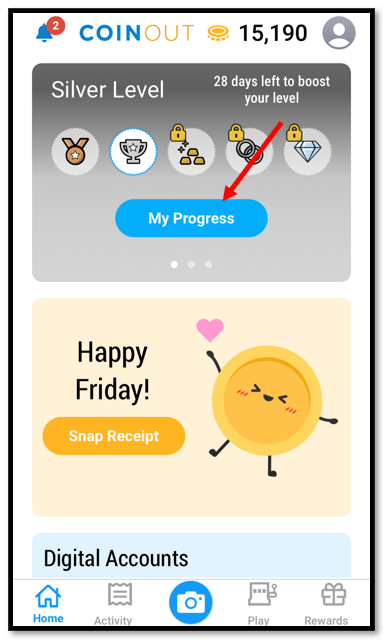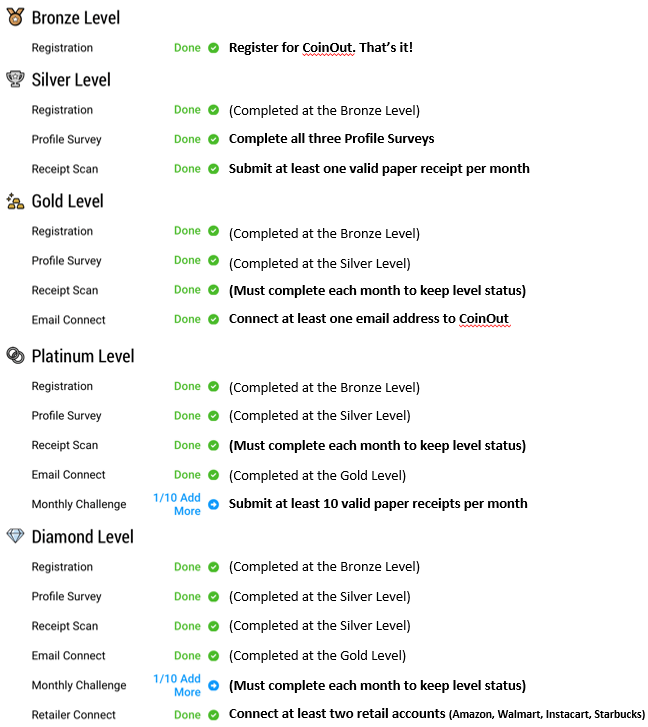 Why should you level up? What do you earn at each level?
You'll earn more Coins per receipt at higher levels and you'll also have more options for redeeming your Coins for rewards!
Note: Amazon gift cards are available for all redemption amounts. Zelle is available for all amounts except $3. PayPal is available at $25 and $50 amounts.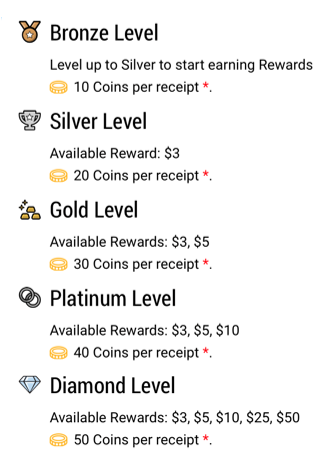 You'll also earn Coins and Game Plays for CoinFrenzy when you complete tasks to level up: